Introduction to Virus
A machine infection is a workstation system that can reproduce itself and spread from one machine to another.[1] The expression "infection" is additionally ordinarily, however incorrectly, used to allude to different sorts of malware, incorporating yet not constrained to adware and spyware modifies that don't have a regenerative capacity.  Malware incorporates machine infections, workstation worms, ransomware, trojan steeds, keyloggers, generally rootkits, spyware, untrustworthy adware, pernicious Bhos and different malevolent programming. The larger part of dynamic malware dangers are ordinarily trojans or worms as opposed to viruses.[2] Malware, for example trojan steeds and worms is in some cases confounded with infections, which are actually distinctive: a worm can abuse security vulnerabilities to spread itself immediately to different workstations through systems, while a trojan steed is a system that shows up innocuous however conceals malevolent capacities. Worms and trojan stallions, such as infections, may hurt a PC framework's information or execution. A few infections and other malware have manifestations perceptible to the machine client, however a large number are surreptitious or essentially do nothing to point out them. A few infections do nothing past replicating themselves.
Spyware
Spyware is program which does   no harm to your system but it collects the  personal information of user like credit card number, bank detail, email  id pass word and sends this information to creator  further creator may sell this information to the advertisement agency. Spyware does unnecessary activities and use system resources hence slow down the system. Spyware also uses network and makes it difficult to connect to internet.
Execute Infection on Start-up
Welcome gentlemen,
You must be acquainted with infections and most likely you must know how we can make them. When the infection get executed it will reveal to its effect yet it will keep going work the framework is turn on, If you will turn off the framework all the methodology of the infection will likewise get murdered.
So our prerequisite is to run our infection again regardless of the fact that the framework get rebooted. So for that we will send our infection on begin up. Be that as it may we would prefer not to send it physically in place of that we might want to send it with the assistance of clump index.
So gave us a chance to take we are having an infection demo.exe.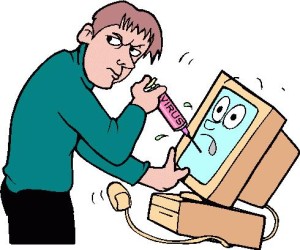 Take after the accompanying steps for sending it on Start up.
1. Open a Notepad record
2. Record the accompanying summon
reg include Hklm\software\microsoft\windows\currentversion\run /v demo /t Reg_sz /d demo.exe
3. Notwithstanding recovery the notepad index with any name say kyrion yet amplification ought to be bat. Implies we will make a clump index eg: kyrion.bat
4. Notwithstanding send kyrion.bat as well as demo.exe infection to your companion. Whenever he will click on kyrion.bat index immediately demo.exe will arrive at begin up.
5. Notwithstanding the effect of the infection will likewise be noticeable after the restart of the framework.
The best way to protect your computer against virus is to install up-to-date antivirus program, format your computer once in the  year, do not install free software.