Get the best multimedia experience with Sony BDV-N8100W 5.1 channel 3D blu-ray disc home theatre system with wireless rear speakers. Get entertained like never before with this astonishing home theatre system with stunning looks. Be it 3D movies, sports or some HD videos – Sony BDV – N8100W can play anything with the highest quality you would have ever seen. Get one of the best home theatre systems at a very reasonable price.
Simple but powerful
Sony BDV-N8100W is one of the most usable home theatre systems that you can find. Its advance technology and innovative features makes it very user friendly at the same time being a very powerful home theatre system. Paired with marvelous wall shaking and "standing tall" wireless speakers you get the most thunderous sound quality. With its simple one touch technology you can easily pair most of the portable multimedia devices such as smart phones and MP3 players with it without efforts. Backed up with 1000W power, this system can easily fulfill your desire of intensely loud music. Inbuilt Wi-Fi makes it possible to grab your favorite multimedia from the internet and play it directly on the Sony BDV – N8100W. Get a real life experience with 1080p full HD life like display.
Premium experience at affordable price
Features like 1080p full HD display with life like picture clarity, integrated with latest blu-ray disc technology and backed up with intuitively built loud speakers, Sony BDV – N8100W brings you a premium multimedia experience at low cost. Be ready to shake your walls with its 5.1 channel surround sound system, one of the best in its class. Seamless sound clarity is offered by its speaker units – 5 speakers and a sub woofer. Its two drivers and two way front speakers produce great quality sound. Now you can hear clearly even the most silent whispers without straining your brows, only with this system.
Get multimedia contents without hassle and trouble. It's built in Wi-Fi and support for Near Field Communication or NFC devices makes it one of the most user friendly and one of the best home theatre systems. With Sony's latest and innovative one touch technology you can play all your music stored in your portable multimedia devices without efforts. Just bring the portable device with the Near Field Communication enabled close to the dashboard of the system, and you are ready to go. Stream the music, create your playlist and effortlessly play your multimedia with just one touch. And there is more to it. It's integrated built in Wi-Fi makes it is much easier to get the multimedia content from the internet. Get endless multimedia from the Sony entertainment network. Get thousands of movies, high definition videos, music and TV shows from the entertainment network. Stream the online multimedia from YouTube, Netflix, Pandora and many more without trouble with this one of the best home theatre systems.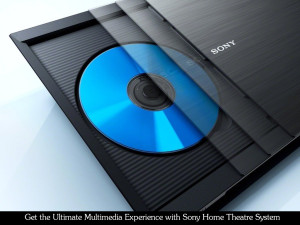 Add more to the standard quality
With its 5.1 channel surround sound system; add more vibrant sounds and seamless sound clarity to even the most ordinary multimedia content. Improve upon the standard quality presented by the HD video and audio with the most innovative and intuitive technologies offered by Sony. Play Blu-ray discs effortlessly with the latest Blu-ray technology. Sony BDV – N8100W can play the HD Blu-rays and can add upon its visual quality with the integrated enhancing engine. The powerful multimedia system can upscale the quality of your multimedia. Get more from your ordinaries DVDs with its full HD display. This one of the best home theatre system has advance technology to convert the 2D videos into more lifelike and high quality 3D videos.
Want more? You can even play the multimedia contents stored on your tablets without any efforts. Just use the one touch technology and stream the videos and music on your tablets to play in great quality with this surround sound system. You can even control the entire home theatre system with these type of smart devices; using them as a remote control.
Endless connectivity options and up scaling technologies
You get endless connectivity options with the home theatre system. Whether you want HDMI, whether you want USB or whether you want wireless – Sony BDV-N8100W 5.1 Channel 3D Blu-ray Disc Home Theatre System with Wireless Rear Speakers provides you with the most popular connectivity options. With the latest 4K up scaling technology, you can convert your full HD content or 1080p content into the videos having far better clarity and resolution up to four times that of 1080p. The options are customisable and not all the videos are supported for up scaling. Though up scaling can work with all types of videos, its best suited for Blu-ray contents. The clarity and the quality improvements are stunning. Now add life to the ordinary videos with the up scaling technology only from Sony.
Endless features – get social, get entertained and get everything possible
Sony BDV – N8100W 5.1 channel surround sound system does not limit you on the features. If it's possible then it is there with Sony BDV. Get more social with your home theatre system. Facebook, tweeter, and other sharing sites are fully supported by the home theatre system from Sony. The applications for these social networking sites are pre loaded in the main operating system.
Enjoy the real lifelike sound with the Sony BDV. Even if you don't have enough space to place the speakers in the rear of viewing area then you don't have to feel bad about it. You can still enjoy 5.1 channel surround sound by placing the wireless speaker anywhere in the room. The sound quality is further improved by the S-Force Pro 3D.
Want to improve on your enjoyments with sports. Now you can with the Sony BDV – N8100W. The exclusive Football mode in the home theatre system lets you enjoy the football matches and other sport events with the best quality possible.
These features and so many more, possible only with the Sony BDV-N8100W 5.1 Channel 3D Blu-ray Disc Home Theatre System with Wireless Rear Speakers.