Android is an operating system developed for Smartphone and tablet. It is Linux based operating system and is open source. At first Google provided financial support to Android Inc. but in 2005 Google bought Android. Android global smartphone market share in world increased from 2.8% in 2009 to 75% in 2012. Android operating system was first installed on HTC dream and was sold in October 2008.The main aim of Android was to develop a powerful operating system for digital cameras but later efforts were made to develop the same operating system for handset and Android came into existence for smartphones. Many Android applications are developed daily and Android software development kit is used for developing these applications. Android consumes less power than the desktop operating system by automatically suspending the apps in memory which are not currently being used.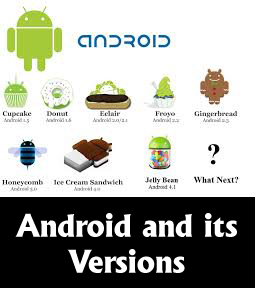 Until now ten flavors of Android are developed and naming are given in alphabetical order from Apple pie(version 1.0) to Jelly bean(version 4.3). Apple pie was released on 23rd September 2008 and included features such as YouTube application,google maps, web browser, android market apps.Banana bread was the next version and had the feature of show and hide numeric keyboard. Cuppy cake included key features such as soft keyboard with text prediction and record/watch videos.
Donut was released on 15 september 2009 and had additional feature of turn by turn navigation.
Eclair had the features such as live wallpaper,digital zoom and Microsoft Exchange support.
Froyo included key features such as USB tethering,animated GIFs,speed improvements.
Ginger bread was the next version after Froyo and had many improvements in features such as voice or video chat using google talk,gmail app improvements and other key developer features such as open accessory API.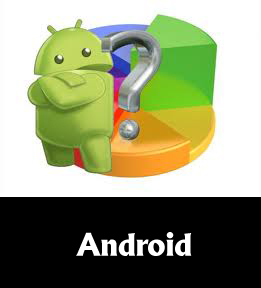 It covered nearly about 34% of market share. Honeycomb included many versions(ranging from 3.0 to 3.2.6) and had many features.Nearly about seven features were released in this flavor of Android.Ice Cream Sandwich was released on October 2011 with features such as facial recognition,better voice recognition,improved camera performance,etc. Jelly Bean is the latest version until now and 4.1 was the first version released in July 2012 and latest version of this flavor is Jelly Bean 4.3 and includes features such as better security and performance,360 degree images with photo sphere,voice search,gesture typing which helps in typing fast,secure USB debugging.
Upcoming version of Android will be 5.0 and will be named as Key lime Pie.Rumors are that this version will be released on October 2013.Security should be provided in this version as Bluebox security discovered that 99 per cent  of devices can be hacked.Visual voice mail should be provide as this feature is not available in it.Business friendly features are expected in this version as this feature is already provided by Microsoft introduced in Windows 8 OS which helps users to lock sensitive information like mails. But all these expectations and rumors will be explored on October 2013 and all the excited users will have to wait for this month.
Update: Latest version of android is KitKat and the version is 4.4