Android Smart Phone Application To Access Campus Details
As a stranger whenever we visit a new campus, we feel easy to explore the campus if we have idea about the campus area and knowledge about its culture. This app focuses on providing campus details such as building maps, cafeteria, ATMs, Workshops etc. It also provides prospectus, Fee structure for different courses, History of that organization and places like library.
We require a server which has these documents in its database and it should be placed in such a way that everybody can access it within the campus. For this we can prefer the central area of campus. This application is built on Android platform which can access without using internet. The campus will have a server which has a Wi-Fi router. This router will be required to connect to the android device and this will help in data transfer. The device can only access the data which is related to that campus. We will use Android-WIFI connectivity to make this application.
Android Smart Phone As a Computer Science Student Assistant
Students especially IT and Computer Science require many algorithms and theorems to solve different problems. This application will have different algorithms so that they can easily cross check their answers and derivation. This application will also provide the step by step explanation for each answer and correct answers. These days there are so many algorithms for students to remember especially for engineering students. So this help will be a boon for such students.  It will also test the user knowledge about various algorithms by taking random tests with different set of data with random inputs. This application will also provide tutorials on engineering subjects. This app will also provide the relevant links from the web of the searched algorithm. This application will also have a small scheduler for the commitments of students to study for a particular subject.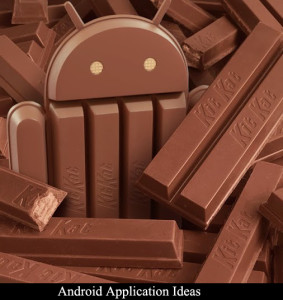 Daily Exercise Scheduler
Lifestyle of people these days is very fast. They don't have enough time for daily exercise. This application will provide these people with proper exercises according to their lifestyle and age. We can also create custom scheduler. This application will also provide details of that exercise in the form of text, audio and videos. This app will also divide different exercises fitting the time schedule. It will also provide daily tips as soon as we open the application. It will also provide data about the burnt calories. It can also suggest you the diet chart for weekdays as well as weekends. It also has an everyday scheduler which upgrades the difficulty of exercise that will help in building the proper shape.
Location Based Services
The cause for each area based informative content framework is: "To aid with the precise informative content, at correct put continuously with customized setup and area affectability". In this period we are managing palmtops and iphones, which are set to swap the cumbersome desktops indeed, for computational purposes. We have boundless number of provisions and use where an individual sitting in a roadside joint ought to get significant information and informative data. Such necessities can just be provided food with the assistance of LBS. These requisitions incorporate security identified employments, general review with respect to movement examples, choice dependent upon vehicular qualified data for legitimacy of enrollment and permit numbers and so on. An extremely engaging provision incorporates observation where moment informative data is demanded to choose if the individuals being screened are any legitimate danger or a wrong target. We have had the ability to make various diverse provisions where we give the client informative data in regards to a spot he or she needs to visit. At the same time these provisions are constrained to desktops just. We have to import them on versatile mechanisms. We should guarantee that an individual when going by spots need not convey the voyage.