Intro:
From small child to old ones all are attracted to cartons and animation and they love to watch it for long time. If you are feeling bored with same static wallpaper on desktop you can now make dynamic or changing wallpaper on your screen in very much less time. This animated wallpaper will take your as well as others attention to this wallpaper.
Features:
You can see pictures as you want on the screen or desktop.
If there is any wallpaper in your mind you can make it using this software.
Using this we can change a photo or image of any instance into beautiful, colorful with an animated background on your system.
You can display images on any four corners of screen.
There is no such difficult or tedious process to make animated wallpaper using it.
Any scene of your mind can be made as dynamic wallpaper on desktop for example the Nigeria waterfall in your mind.
The animated wallpaper can be in picture format of JPEG, bitmap, GIF etc.
These support any format and create wallpaper in few span of time or even less of time.
You can create animated view of your mind which is fictions or hyperbole. i.e. creating imaginary animated wallpapers.
Any Platform is feasible.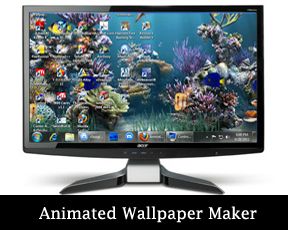 Why to use it?
Animated wallpaper maker answer your queries as well as your guides you to make animated wallpaper makes or gives you hand on great experience that you have never experienced before. Hence using this you can create colorful and animated wallpaper which will take attention of other too.