Intro:
Ashampoo 3D CAD Architecture 4 is a powerful design tool that lets the architect within you, do anything from visualizing and designing your projects. From small rooms to entire building, from apartments and gardens to a totally furnished house complete with appliances – with Ashampoo 3D CAD Architecture 4 you can handle, design and visualize all your projects with ease.
Features:
It has a nice interface for users which can be mastered by novices in no time.
It comes with a five steps wizard to let you edit basic settings – quick, easy and highly comprehensive.
To get the best viewing experience, Ashampoo 3D CAD Architecture 4 offers views such as 2D, 3D or cross-sectionally.
Want a different perspective, this flexible tool allows you to set and position cameras at different viewing angles with ease.
Leave all the complex calculations to it related to viewing angles, length, area or volume.
Its precision and accuracy in empirical and metric measurements is unmatched.
This software is all in one super tool for all your needs. With its construction tools and wizards for designing roof, stairs, topography and optimum catalog of objects, your creativity will be limitless.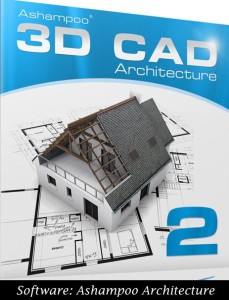 Why to Use It?
Ashampoo 3D CAD Architecture 4 is all you need to become your architect.The complete and flexible design tool for the architect within you.