When it comes to sound quality, there is nothing better in the world than the Sony products. And Sony HT – CT660 is no exception to this. A beautiful device having great features and two separate units – a forty six inch sound bar and a wireless sub woofer, this is one of the Sony Sound Bars that sounds just too great to believe.
Now you can easily have loud sound, a theatre like experience in your home. You can use your portable multimedia devices to stream music to the sound bar for a better experience. Add high definition displays to the sound bar with the support of maximum three HDMI devices. These and a lot many features are the reasons why the Sony HT – CT660 is one of the best sound bar systems.
Powerful Sound
The Sony HT – CT660 is a powerful device. Now you easily add a quality sound to an ordinary quality TV set with the likes of Sony Sound Bars. You can easily configure the Sony HT – CT660 to work with your TV set to bring the entertainment to a whole new level. Though it's a compact device it doesn't compromise on the quality and the loudness of sound. This compact device can output the power of whopping 300 watt. Now that is really powerful for a device of this size. And it doesn't compromise on the quality of sound. With the highest degree of purity in sound, this little device delivers excellent results. You can comfortably hear even the most silent whispers. Now don't worry about that silent and quick dialogue, with Sony sound bar you won't miss these types of conversation in the future.
Not impressed yet? No problem? There is something more to add to it. If you think a sound bar will not deliver quality bass then you might be thinking right. But not with the Sony sound bars. Sony HT – CT660 is equipped with a wireless sub-woofer that delivers exceptionally great bass. Now enjoy the realistic perspective of special sound effects in a movie or enjoy that collaboration of high and low pitch music.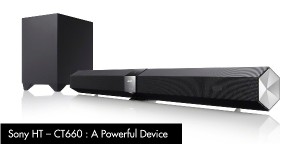 One Touch Seamless Integration
Sony is well known for developing sound bars that are some of the best sound bars in the market. With its intuitive and innovative technologies and solutions, Sony always brings something more than ordinary to its devices. One of these innovations is a great technology called as "One Touch". With one touch you can easily integrate your portable multimedia devices with the sound bar system without you requiring to use some kind of data cables. Just add devices to your Bluetooth and get ready to stream your music collection to the sound bar. There are many devices supported with the only requirement being NFC enabled. NFC stands for Near Field Communication. The main technology behind one touch is NFC. Using NFC you can simple touch your device to the sound bar unit to stream the multimedia content.
Get More With Sound
There is no doubt that Sony sound bars are some of the Best sound bars. The reason for their being the best is their ability to keep up with the latest technology and to give their own personal touch to it. With Sony HT- CT660, they have kept their words of bringing the latest technologies at affordable prices. Not only it is the sound quality and loudness that makes this compact sound bar as one of the best sound bars, but it is its compatibility with the latest standards that makes it exceptional. With Sony HT – CT660, you can enjoy your movies, or more specifically you will be watching those movies with sound as the director intended them to be. This is because this compact sound bar is compatible with the latest and the best formats of Dolby Digital and DTS Digital sound.
To add more weight to the quality of sound, Sony has provided S-force pro to the HT – CT660. The S-force pro is a 3D surrounding sound technology that promise to deliver cinematic sound experience. It does more than simulating a 3D surrounding sound effect. The S- force pro is responsible to minimize the latency period between the video and audio. That is it is responsible for proper synchronization between the audio and the video track. This feature makes sure there is no lack in the quality when you are enjoying your favorite movies and videos.
Number of Connectivity Options
Sony HT-CT660 is one of those Sony Sound Bars that has three HDMI ports for connectivity with multiple high definition video and audio device sources such as gaming consoles and cable TV set top box. No need to buy different cables for different devices. With just one cable you can connect the sound bar to many different sorts of devices to get high definition picture quality and unmatched and exceptional sound quality.
Great Design and Features
Sony HT – CT660 is one of those devices that have a perfect balanced between the advanced features and the usability. Its hexagonal design is not only elegant but it improves upon the quality of the sound. Its compact and its design are so simple that you can install it wherever you want to install it. Its unique Bluetooth standby mode makes it possible to save on electricity. The sound bar will remain in the standby mode as long as there is no request from a Bluetooth enabled device. Once a Bluetooth connection is set up the sound bar is ready to rock. It's easy to use and there are no concerns related to the installation of the device. It can be placed on a table or can be mounted on a wall – all according to your wish. If you are worried about that after placing the HT-CT660 in front of your TV, the remote control functionality of your TV set is going to hampered then cheer up because it is not the case. The inbuilt IR flusher makes amplification to the receive signals and passes it on to the TV unit for better control.
Sony HT-CT660 is definitely one of the best sound bar systems that you can have for such a low price. With these features there is hardly anything left to desire. So if you are searching for a great sound bar than you can put a stop to your search.