This article gives the useful information LCD that is Liquid Crystal Display. A LCD is a thin flat display devices made up of any number of color or monochrome pixels arrayed in front of a light source or reflector. Each pixel on an LCD typically consists of layer of molecules aligned between two transparent electrodes and two polarizing filters, the axes of transmission of what are (in most of cases) perpendicular to each other. And no liquid crystal between the polarizing filter, light passing throw the first filter would be blocked by second polarizer.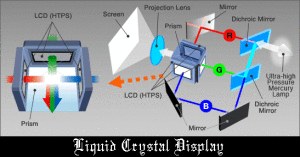 The surfaces of electrodes that are in contact with the liquid crystal display material are treated so as to align the liquid crystal molecules in a decided direction. This treatment typically consists of so small polymer layer that is unidirectional rubbed using, for e.g, a cloth. The direction of the liquid crystal alignment is then defined by the direction of rubbing. Today's color LCD monitors have a sandwich like structure. The LCD monitors consist of following component:
Color filter panel
Liquid crystal
TFT Panel
Transparent Electrodes
Polarizing filter
Transistor
Pixel
The TFT CD panel contains a specific number of unit pixels often called sub pixel.
Each unit pixel as a TFT, a pixel electrodes and a storage capacitor (Cs). For example, an SVGA color.  TFT LCD panel has total of 800x3x600, or 1,440,000, unit pixel. Each unit pixel is connected to one of the gate bus lines and one of the data lines in a 3MxN matrix format. The matrix is 2400 x 600 for SVGA.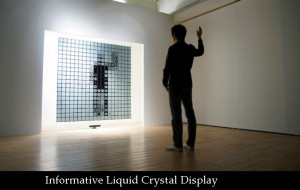 ADVANTAGES OF LCD:
Small weight can be about 15 lbs for a small (thin) LCD.
Tiny footprint on desk leaving, freeing up work area on the user's desk.
Flicker free screen.
Many usable display screen than on comparably sized CRT's
Small amount of (Low) frequency radiation is practically removed
Easy adjustment, storage, and movement
Energy efficient using only 1/3 to ½ the electricity of CRT's, and they do get generate heat.
Potentially less eyestrain due to reduces screen glare. Good for basic web surfing.
Newest thin film transistor (TFT) liquid crystal technology has provided LCD's in competitive position with CRT's for image and color clarity.
Plentiful mounting arm option available enabling these light LCDs, whether computes or TV monitor to be ergonomically raised off the work surface.
DISADVANTAGES OF LCD:
Fragile screen may result in both screen and back light lamp damage if touched or handled.
Contrast ratio causes darkness to not be displayed true. Darkest screen may be viewed as dark gray rather than black
Designed only for one optimum resolution cannot adjust images.
Best view screen is straight on limiting clarity and colors of information for those viewing from an angel.
The back light is the potential weak link and its failure can be costly. Many warranties only cover for one year.
TYPES OF LCD: 
Passive matrix and
Active matrix
Passive matrix:
Passive matrix LCD's uses a simple grid to supply the charge to a particular pixel on the display. Creating a grid   is quite a process! It starts with two glass layers called substrates.
Active matrix:
It depends on thin film transistor (TFT) Basically TFT are tiny switching transistor and capacitor. The capacitor able to hold charge until next refresh cycle..