Intro:
We Go for party and we hear DJs in pub play mixed music which is liked by each one. Dancing and enjoying loud music is great fun. Music is heart bit of most individuals. Or we can say life without music can't be imagined.
Features:
Now days in pubs, disco's DJ's play various song which you like and you try do this at home as you desire to be DJ but hardly possible.
Now you can be DJ you can mix 2 or more songs using this OTS turntables software.
Mixing sound, adding effects, sound bass enhancement external, auto, pop, rock, jazz, class, live wide, conch is difficult.
But don't worry you can mix using this software. This is first application that helps to mix music.
With the help of this software you can create mixing of uses at home desktops and listen and play during parties.
If you are not professional DJ' at all but even you can mix music and enjoy it which will be great fun.
Using software you can mix songs various movies too.
The software provides feature of creating effect of music never heard before you can also adjust the various sound effect and quality, to have good music to your ears.
The software helps in playback, equalizer, sound source is controlled. We can play music for your home session parties.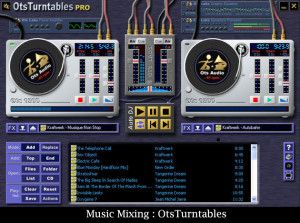 Why to Us it?
Those who are quite interested in becoming DJ can try this at first step toward success of mixing sound and you can create a un experienced atmosphere on floor. We can enjoy mixed music using this software.