Intro:
As the name says, Send SMS From PC to Mobile allows sending data or message from Computer (PC) to wherever you want to send, using way of a smart interface and simple way. The gateway utilized by this application provides largest network coverage for 578 networks worldwide in countries.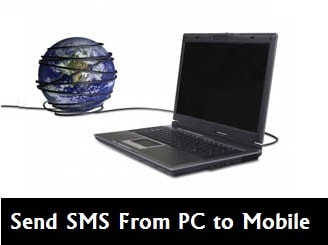 Features:
It is fully Free of cost only you have to register first and after that you able to send the SMS from your PC wherever you want.
When you register the free credits immediately forwarded to you. After that, the program provides cheap pricing to your message.
Send SMS From PC to Mobile application provides quickly and easy integration, less or zero cost, fast SMS delivery to the receiver.
Send SMS From PC to Mobile is very easy to Install and easy to use and easy to confirm delivery of your SMS.
Overall as per the consideration of the GSM costing this application is very beneficial to the SMS users.